The Matam Park is a unique high-tech and business park that offers a comprehensive work experience and optimal conditions for the development and growth of companies of all sizes. The park boasts an advanced infrastructure and a wide range of services, from banking, hairdressing and dry cleaning to kindergartens and cafes. All of these add to the ready and attentive service from the park staff, and create a highly popular and attractive work environment.
The park is jointly owned by Gev-Yam (50.1%) and the Haifa Economic Company (49.9%) of the Haifa Municipality.
Total office area
square meters
Companies based in the park
People working in the park
A 360° Matam Park
One unique park, that makes everything that matters to you accessible, pleasant and easy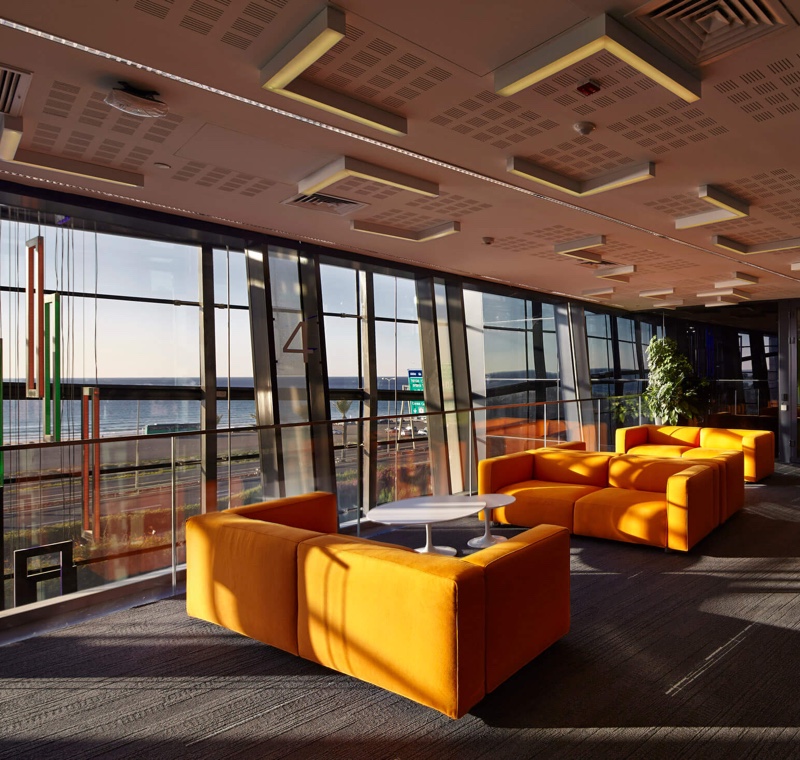 Being in the right place is often a crucial element for success. Matam offers unique advantages that make it an attractive location for leading companies at any scale and from all areas of technology, finance and business.
The park boasts a favorable location, top tier companies and a direct link to the high quality human capital from Haifa's academic institutions.
Global and Israeli companies who put their employees' experience and the managerial peace of mind that the park provides at the top of their priorities, choose Matam Park for just those reasons. Some of the services provided by the park include sports and fitness centers, restaurants, hairdressers and even kindergartens. Together, they form a work environment where employees can thrive. These qualities have led to the park being dubbed the Israeli Silicon Valley.
The park is located at the southern edge of Haifa adjacent to major traffic routes and in close proximity to the train station and the central bus station. A free shuttle service transports workers and visitors from these stations to the park and back, thus allowing easy access from northern and central Israel, with or without a car.
In addition, the park is located near Haifa's leading cultural and leisure centers, such as: The Haifa Congress Center, the Sami Ofer International Football Stadium, the Azrieli Haifa Mall, the Castra Arts Center and more.
Looking towards the future and the east
The growing demand for offices in the park has led to the development of the East Matam complex, where some of the most advanced office buildings in Israel will be built. The construction of the eastern complex will be carried out in three phases by 2024, with a total area of ​​approximately 128,000 square meters, of which approximately 77,000 square meters of building area. The eastern complex is designed with an emphasis on innovation modularity.
Meet the neighbors: Microsoft, Google, Apple, Intel, Elbit, Yahoo, Philips, Pluristem and many other leading companies